Description:
Ketchikan Pulp Mill Editorial, March 26, 1997
Ketchikan Daily News
The Ketchikan Pulp Mill, the last pulp mill in Alaska, shut down on March 25, 1997, leaving almost 500 workers unemployed. Operating under a 50-year timber contract with the Forest Service, a contract designed to help provide year round jobs in our remote region, the pulp mill had been an economic force in the area for decades.

The aging mill had been losing money as costs increased but production decreased due to new environmental regulations and was in need of up to $200 million in renovations to address clean air and water violations. Pulp prices had reached record lows, and Louisiana Pacific had been trying to sell the mill. When the Forest Service cancelled the timber contract in 1996, Louisiana Pacific sued the federal government. A $250 million settlement included $110 million slated for job retraining for the laid off workers as well as a new three-year timber contract.

The closure of the mill had a deep impact on Ketchikan and the many businesses that had depended upon its workers for decades. Severance pay equaled a year's wages for many longtime employees, but with few employment options in Ketchikan, many families were forced to move.
Ketchikan Museums, KM Archive
Click to Enlarge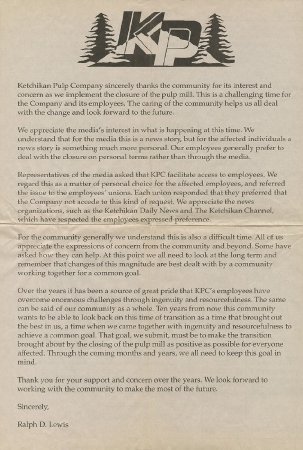 Ketchikan Daily News article