Description:
Helping Hands
Mural, 2012
Various Artists
Community Connections was founded in Ketchikan in 1985 by Joanna DeSanto. For individuals with developmental disabilities, local resources were limited and parents were often forced to move south or put their loved ones into institutional care. Joanna believed that person centered and community based services were the best path to success and satisfaction for individuals with developmental disabilities and anyone needing services to remain in their home community.

Community Connections serves individuals with developmental disabilities, adults with physical disabilities, elders, very young children who are developmentally delayed or at risk, and children with behavioral health needs. Each year Community Connections serves roughly 700 people in Ketchikan, Metlakatla, and on Prince of Wales Island.

Community Connections Senior and Disability Services hosted an open house for community members to paint canvas boards for the Helping Hands mural in preparation for the grand opening the new Community Connections building in 2012.
Loan to Ketchikan Museums, L2022.4.7.1
Click to Enlarge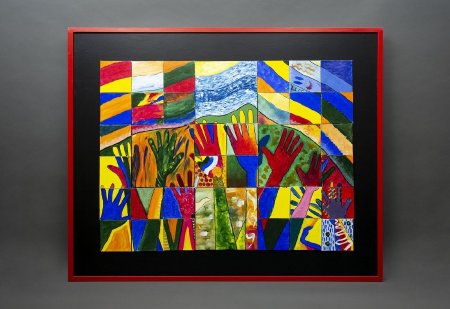 "Hands" mural