Taking Flight
Ketchikan's Commercial Aviation History by Don 'Bucky' Dawson
Aviation has been a way of life in Ketchikan for 100 years. In celebration of this historic milestone Baranof Fishing Excursions partnered with local aviation photojournalist, author, and historian Don 'Bucky' Dawson to document Ketchikan's commercial aviation history through extensive research and photographs. Companies are listed in chronological order with new pages, detailing the history of each company, released weekly.
We invite you to explore and contribute to the history of commercial aviation in Ketchikan. If you have objects, photos, or stories that might be a good fit for this exhibit or adds information about commercial aviation in Ketchikan, please fill out this form. Click Here to Share More about Aviation in Ketchikan
Special thanks to Don 'Bucky' Dawson for his thorough research and to Chuck and A.J. Slagle for funding and facilitating this important project.
Aviation Companies Available Now on Virtual Exhibit
Upcoming Aviation Companies
Tyee Airlines, 1975-1985
Promech Air, 1976-2016
Taquan Air Service, 1977-2000
Southeast Alaska Airlines, 1979-1983
Westflight Aviation, 1981-1986
Misty Fjords Air & Outfitting, 1981-Present
Totem Air Service, 1983-1984
Temsco Airlines, 1985-c.1991
Seaside Air Service, 1989-1996
Island Wings Air Service, 1992-Present
KenAir, 1992
Seaborne Aviation - Alaska, 1992-1994 / 1998-2000
Air One, 1997-1999
Island Air Express, 1998-Present
Carlin Air, 2000-Present
Family Air, 2000-Present
Taquan Air (Venture Travel LLC), 2000-Present
Pacific Airways, 2000-2020
Sol Air, 2000
RDM Air - Alaska Seaplane Tours - Ketchikan Helicopters, 2000-2020
Pirate Airworks, 2001-Present
Southeast Aviation, 2002-2021
Seawind Aviation, 2004-Present
Mountain Air Service, 2011-2019
Black Rock Aviation, 2020-Present
Helicopter Air Alaska (Ketchikan Operations), 2020-Present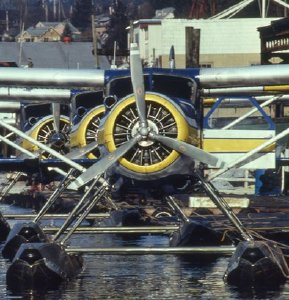 Eager Beavers
, De Havilland Beavers at Tyee Airlines Dock in Ketchikan, AK, 1981 photographed by Don 'Bucky' Dawson
Westflight Grumman Goose N72PR Unloading Cargo at Smith Cove, AK, 1983 (above) photographed by Don 'Bucky' Dawson