Description:
Artifact of the Month: August 2022
A Ruckus for a Good Cause
In Ketchikan, we have a deep sense of responsibility for one another. Whether it is for a worthy cause at a local fundraiser, volunteer work, or the health and safety of our community, we come together when necessary. We come together to make our voices heard at city council meetings, to march in solidarity, honor those who give, mourn loved ones, and to celebrate new love and new life.
Reuben E. Crossett (1920-1985), owner of the Pioneer Bar, held annual "Alaska Game Dinner" fundraisers to benefit the community. After Reub passed, a large portion of his estate was left to the Seattle Children's Hospital and in 1988, the Reuben E. Crossett Endowed Alaska Fund was created. The Crossett Fund continues to provide seed money for community-based projects to improve the health of children living in Southeast Alaska.
This month's featured artifact is the placemat from Reub's 25th Annual Alaska Game Dinner in 1986. A copy of the placemat is on display at the Tongass Historical Museum in the special exhibit,
Sustaining Community: How We Gather & Why It Matters
.
Ketchikan Museums: Tongass Historical Society Collection, THS 86.1.11.1
Click to Enlarge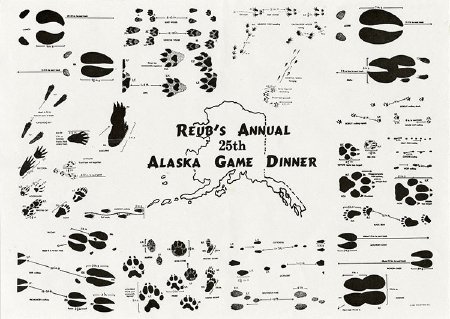 Reub placemat