Description:
The Founding of the Totem Heritage Center: Partnership to Preserve Cultural Heritage

In 1969, in response to the growing concern over the preservation of totem poles in Alaska, the Alaska State Museum, Smithsonian Institution, and Alaska Native Brotherhood (ANB) and Alaska Native Sisterhood (ANS) conducted an intensive field survey of totem poles in Southeast Alaska to establish their location, document their condition, and offer recommendations for preservation.

Local Alaska Native communities supported the survey and Tlingit and Haida elders joined as guides and local authorities. The survey team searched ancestral Tlingit and Haida villages and found evidence of natural deterioration, but also found evidence of theft, destruction, and vandalism. Only 44 totem poles remained where hundreds once stood. The survey team recommended that the totem poles be retrieved and protected for future generations.


"Preservation was a new idea to us. It was a dilemma within the Indian community but we decided that in the interests of preserving the bit of our heritage that remained, we would try to save the poles."
-Dennis Demmert, Tlingit, Totem Pole Retrieval Project Coordinator, 1973
Once permission and ownership was established, the totem poles were retrieved from the uninhabited Haida village of Kasa'áan (Old Kasaan) on Tàan (Prince of Wales Island), and the uninhabited Tlingit villages of Dàasaxakw (Village Island) and Kadúkxuka (Tongass Island). These totem poles were placed at the Totem Heritage Center in the 1970s as part of the project Alaska Totems: A Heritage in Peril, co-sponsored by the ANB, ANS, the State of Alaska, and the U.S. Forest Service.

Kichxáan (Ketchikan) was selected as the site of a heritage center because many of the descendants from the ancestral Tlingit and Haida villages where the totem poles were removed from had settled here. Today, the Totem Heritage Center stewards the world's largest collection of original 19th century totem poles and serves as a Tlingit, Haida, and Tsimshian cultural center. Preserving the totem poles for future generations is part of the Heritage Center's mission along with offering classes to perpetuate traditional art forms and techniques.
Click to Enlarge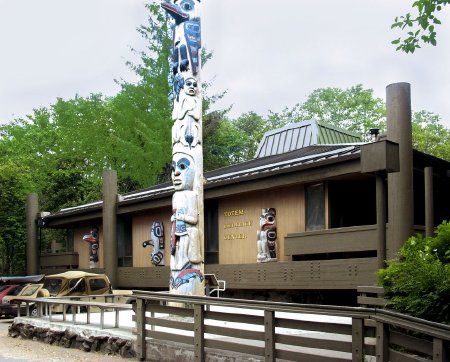 Totem Heritage Center